Genanvendt.dk: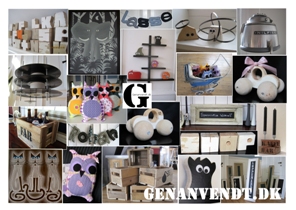 Genanvendt.dk  is a Danish webshop for people who love unique design, artwork and toys made of upcycled materials.
Genanvendt means 'upcycled' in Danish! The designers behind Genanvendt use upcycled materials for their designs. This means that materials which are not used anymore or which would have been disposed of anyway are used again for something completely new and different, creating a new unique design.
Sales outside of Denmark:
Genanvendt does not handle sales outside of Denmark via this webshop at the moment. Therefore, if you live outside Denmark and wish to buy a product, please contact us here. Please note that an additonal shipping fee will be charged depending on where you live. We do not ship to the United States and Canada at the moment.
Examples of upcycled products and design: (these pages are with Danish text but with pictures of all products!)
– Lamps made of old vinyl records, the famous Danish vacuum cleaner Nilfisk, kitchen equipment etc.
– Stuffed animals and teddys and pillows made by second hand fabric
– Paintings on canvas, paper, furniture or wood veneer (more to come)
– Wooden chalkboards and wooden letters made of old doors
– Wooden candlesticks made of pallets
– Candlesticks made of old books
– Wooden cars made of old furniture
– "Mingus & Klodserne" (Children's bricks), which is not recycled or upcycled as it is made for small children. Therefore, it is made of clean, new larch wood and painted with paint that has the EU and the Nordic Ecolabel. This is a highly unique product which is both a toy and a wall decoration in one product.
– Miscellaneous upcycled products
– Letters made of second hand fabric
– Upcycled cans for storage (tin, plastic and cardboard cans and boxes with old comic book pages decoupaged on)
---